our repertoire, requests and musical arrangements
Requests and musical arrangements
Anything Goes arranges most of the music itself, usually in response to requests by clients. In this way, our repertoire is always being updated with new and popular pieces.
And, if you don't see a piece or song that is a particular favourite, or has a special meaning for you – do feel free to ask us. We may already have it or, if not, we will try to arrange it for you.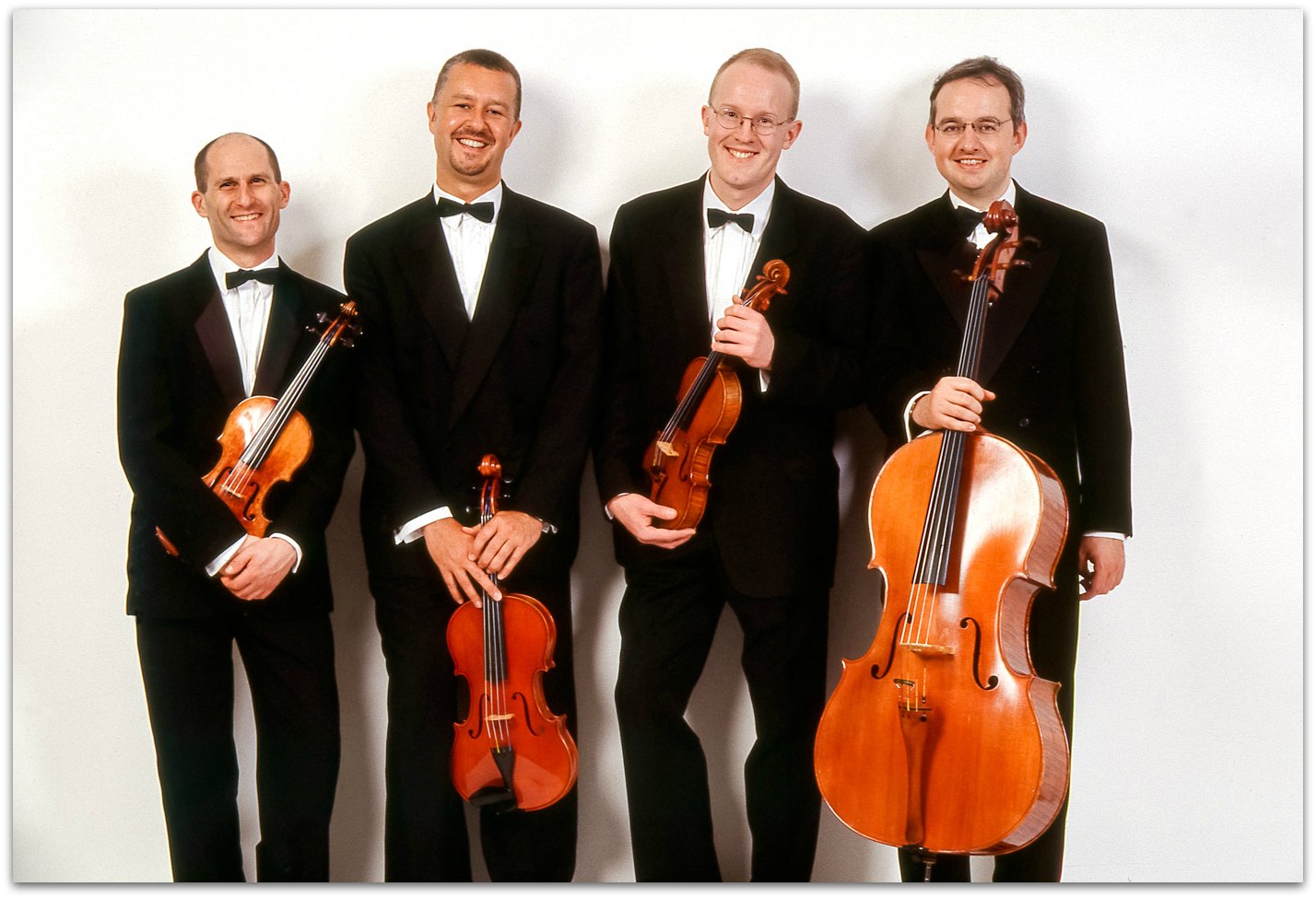 Our repertoire
Click on the musical style tabs below to see our repertoire
Baroque and Classical
Bach:
Brandenburg Concerto no.2
Brandenburg Concerto no.3
Brandenburg Concerto no.4
Concerto for 2 Violins in D minor
Air "on a G-string"
Boccherini:
Charpentier:
Clarke:
Corelli:
Handel:
Arrival of the Queen of Sheba
Largo (Ombra mai Fui)
Hornpipe from Water Music
Lascia Ch'io Pianga
La Rejouissance from Fireworks Music
Other Movements from above works
Haydn:
Various String Quartet Movements
Mozart:
Adagio(Gran Partita)
Eine Kleine Nachtmusik
3 Divertimenti
Exsultate Jubilate
Piano Concerto 21 (Elvira Madigan)
Pachelbel:
Purcell:
Schubert:
Vivaldi:
The Four Seasons
Cello Sonata in B-flat
Concerto for 2 Violins in A minor
All Standard Wedding Marches
Wagner (Here Comes the Bride), Mendelssohn, Trumpet Voluntary etc.
The Romantics
Borodin:
Nocturne (theme from Kismet)
Polotsvian Dance
Debussy:
Delibes:
Flower Duet (theme for British Airways advert)
di Capua:
Dvorak:
Elgar:
Chanson de matin
Salut d'amour
Faure:
Grieg:
Wedding Day at Troldhaugen
Kreisler:
Rachmaninov:
Ravel:
Rodrigo:
Concerto d'Aranquez (Slow Movement)
Saint-Saens:
Carnival of the Animals Finale
The Swan
Schumann:
Shostakovich:
Strauss:
Blue Danube Waltz
Tales From Vienna Woods
Voices of Spring
Tchaikovsky:
Andante Cantabile
Waltz from Symphony 6
Vaughan-Williams:
Opera and Ballet
Bellini:
Bizet:
Intermezzo and Medley from Carmen
Mascagni:
Intermezzo from Cavalliera Rusticana
Massenet:
Mozart:
Arias from The Marriage of Figaro
Arias from Don Giovanni
Offenbach:
Prokofiev:
Montagues & Capulets March (Romeo & Juliet)
Puccini:
Nessun Dorma
O Mio Babino Caro (theme from A Room With A View)
Rossini:
Overture to The Barber of Seville
Gilbert & Sullivan:
Three Little Maids (The Mikado)
Tchaikovsy:
Overture & Dance of the Mirlitons (Nutcracker)
Sleeping Beauty Waltz
Verdi:
Brindisi from La Traviata
Quartet from Rigoletto
Pop and Rock
Abba:
Dancing Queen
I Do, I Do, I Do
Mamma Mia
Money, Money, Money
Adele:
Aerosmith:
Andy Williams:
Music to Watch Girls By
Can't Take My Eyes Off of You
Beatles:
All You Need is Love
Eleanor Rigby
Here There and Everywhere
Love Me Do
When I'm 64
Something
Yesterday
Bee Gees:
Bette Midler:
Boyzone:
When You Say Nothing at All
Bruno Mars:
Carpenters:
Close to You
On Top of The World
Yesterday Once More
We've Only Just Begun
Coldplay:
Chris de Burgh:
Christina Perri:
A Thousand Years (from Twilight)
Clean Bandit:
David Bowie:
Des'ree:
Dolly Parton:

Dusty Springfield:
I Close My Eyes and Count to Ten
Ed Sheeran:
Elbow:
Ellie Goulding:
Elton John:
Can You Feel the Love Tonight
Guess that's Why They Call it The Blues
Kiss the Bride
Your Song
Elvis Presley:
Can't Help Falling In Love With You
Love Me Tender
The Wonder of You
Enya:
Eric Clapton:
Etta James:
Florence and the Machine:
Guns and Roses:
Jack Johnson:
Jason Mraz
Jennifer Rush:
Lady Gaga:
Lionel Richie:
Lou Reed:
Madonna:
Madness:
Metallica:
Nina Simone:
Oasis:
Paul Weller:
Queen:
Bohemian Rhapsody
Don't Stop Me Now
Robbie Williams:
Scissor Sister:
I Don't Feel Like Dancin'
Seal:
Simon and Garfunkel:
Bridge over Troubled Water
Mrs Robinson
Simply Red (also Stylistics):
You Make Me Feel Brand New
Sigur Ros:
Stevie Wonder:
As
Signed, Sealed, Delivered
Supergrass:
Take That:
Van Morrison:
Verve:
Wannabies:
Standards
Gershwin:
I Got Rhythm
The Man I Love
Rhapsody in Blue
Someone to Watch Over Me
Summertime
S'Wonderful
Cole Porter:
Anything Goes
Every Time We Say Goodbye
Let's Do It
You're the Top
Scott Joplin:
Other:
Bring Me Sunshine
Dream a Little Dream of Me
Fly Me to The Moon
I'm in the Mood for Love
Libertango
Love and Marriage
Making Whoopee
Moonlight in Vermont
My Funny Valentine
New York, New York
A Nightingale Sang in Berkeley Square
Raindrops Keep Falling on My Head
Singing in the Rain
That's Amore
They Can't Take That Away from Me
La Vie en Rose
The Way You Look Tonight
What a Wonderful World
Stage, Screen and TV
All I Ask of You (Phantom of the Opera)
All That Jazz (Chicago)
Always Look on the Bright Side of Life (Life of Brian)
Bear Necessities (Jungle Book)
Beauty and the Beast ("Tale as Old as Time")
Can You Feel the Love Tonight (Lion King)
Cavatina (Deer Hunter)
Come What May (Moulin Rouge)
Desert Island Discs Theme (By the Sleepy Lagoon)
Dick Barton Galop
Downton Abbey Theme
ET Theme
Fawlty Towers Theme
Game of Thrones Theme
Godfather Waltz
Harry Potter – Hedwig's Theme
How Far I'll Go (Moana)
Let It Go (Frozen)
I Am What I Am (La Cage aux Folles)
I Could Have Danced All Night (My Fair Lady)
I Dreamed a Dream (Les Miserables)
If I Were a Rich Man (Fiddler on the Roof)
Impossible Dream (Man of La Mancha)
Inspector Morse Theme
James Bond Theme
Live and Let Die Theme
Love is all Around (4 Weddings & A Funeral)
Mack and Mabel Overture
Make our Garden Grow (Candide)
Memory (Cats)
Moon River (Breakfast at Tiffany's)
New York, New York
Over the Rainbow (Wizard of Oz)
Pirates of the Caribbean Theme
Por Una Cabeza (tango from Scent of a Woman)
Raiders March (Raiders of the Lost Ark)
Selection from The Sound of Music
Skyfall
Summer Place Theme
Star Trek – The Next Generation
Sunrise Sunset (Fiddler on the Roof)
The Apprentice Theme
Titanic (Our Love Will Go On)
Twilight (A Thousand Years)
We Go Together (Grease)
West Side Story Selection
When You Wish Upon a Star (Pinocchio)
You'll Never Walk Alone (Carousel)
Chi Mai (Theme from Life & Times of David Lloyd George)
World and Religious Music
Jewish Music:
Selection of Jewish and Yiddish songs and dances
Christmas Music:
Selection of carols and seasonal songs
Scott Joplin:
Monti:
Other:
Cock Linnet
Con te Partiro (Time to Say Goodbye)
Guaglione
Irish Sherry (Medley of Irish Tunes)
Libertango
O Sole Mio
Por Una Cabeza – Tango
Zorba the Greek
Various Anthems, Hymns, Carols, Marches etc.
Do feel free to get in touch
Send us an inquiry and we will get back to you as soon as we can!
Contact Us